Is it possible to design sophisticated magazine covers that communicate and sell in the virtual newsstand when all we can show are low-resolution thumbnails?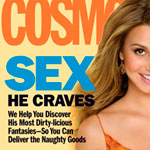 "Don't judge a book by it's cover." We all know the saying, but do we pay any attention? Of course not. And that's why we also say that first impressions matter. In fact, that's a fundamental principle of graphic design: the initial visual impact of something is vitally important. Covers of anything – books, magazines, albums, you name it – are what makes or breaks a sale. Okay, sure, sometimes we know we're going to buy something before we see the cover; the next Ian M Banks novel or the next issue of MacUser, for example. But never underestimate the power of the cover.
When CDs took over from vinyl LPs, die-hards bemoaned two things; the subtle reduction in audio quality, which I find is actually pretty hard to distinguish without serious hifi gear, and the dumbing-down of album cover artwork. Whatever you feel about the first point it is true that there is no straight equivalent of some of the most extravagant album cover creations of the past.
The design group Hipgnosis was responsible for a significant number of award-winning cover designs through the 1970s – flick through the discography section for Hipgnosis in Wikipedia and ponder what it must have been like in the studio. These often came with stickers, extra artwork and other goodies, as the music industry got to grips with luxurifying the point of sale wrapping for the music.
---
---
The 1970s was the era when album cover design became high art, and some took covers beyond mere design-on-canvas levels. Jefferson Airplane's Long John Silver album cover could be popped out, folded up and turned into a cardboard humidor box for, ahem, 'cigars', and Led Zeppelin's In Through The Out Door inner sleeve was a black and white design that produced colours when brushed with water. This kind of extravagance can be hideously expensive, but it was seen as the mark of confidence and flair. (Curiously, the paintable Led Zeppelin inner sleeve was never officially publicised; it was left to word of mouth and, presumably, beer spills to reveal the secret.)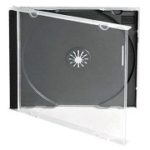 Then CDs took over and most album artwork became low-cost print flimsies slipped into fragile plastic shells – before capitulating to the ultimate convenience but artwork-damning charms of downloadable digital music. Sure, 'cover' artwork is still important, but now it is simply square bitmap images of modest proportions embedded in our tracks.
This album cover development from sophisticated artform to pixel add-on took very little time; 15 years, maybe 20 at the outside. Is this going to happen to other kinds of covers? What about the magazines that you hold in your hands? What's going to happen to the magazine cover in the next five or ten years? That may seem not all that far away, but the pace of change is fast.
It is tempting to jump into the whole digital futures thing, but first take a look at where the magazine cover has come from. The earliest magazines used covers that were essentially table of contents, with the title squeezed into the top in fairly small type. Of course, that's partly because of the length of titles. "The American Magazine of Useful and Entertaining Knowledge" and "The Town and Country Magazine, or, Universal Repository; of Knowledge, Instruction, and Entertainment" are two from the 18th century. If an actual cover was used it was made to look like a plain book cover. It wasn't until the late 19th century that pictorial covers were the norm, and these tended to be poster-style designs with coverlines generally small and used as contents-style lists.
But by 90+ years ago the formula, the visual language of magazine cover design, had been established. Take this McClure's magazine cover from 1916. Note the balance of type and image; even though the type isn't shouting there are primary and secondary cover lines. The model is in a nearly full body pose and glancing towards the viewer, and there's a strong sense of design layering going on between the main elements. From back to front, there's the sea, the sail, the title and most coverlines, the boat edge, and the large coverline at the bottom. You'll see this kind of structure again and again in any newsstand today.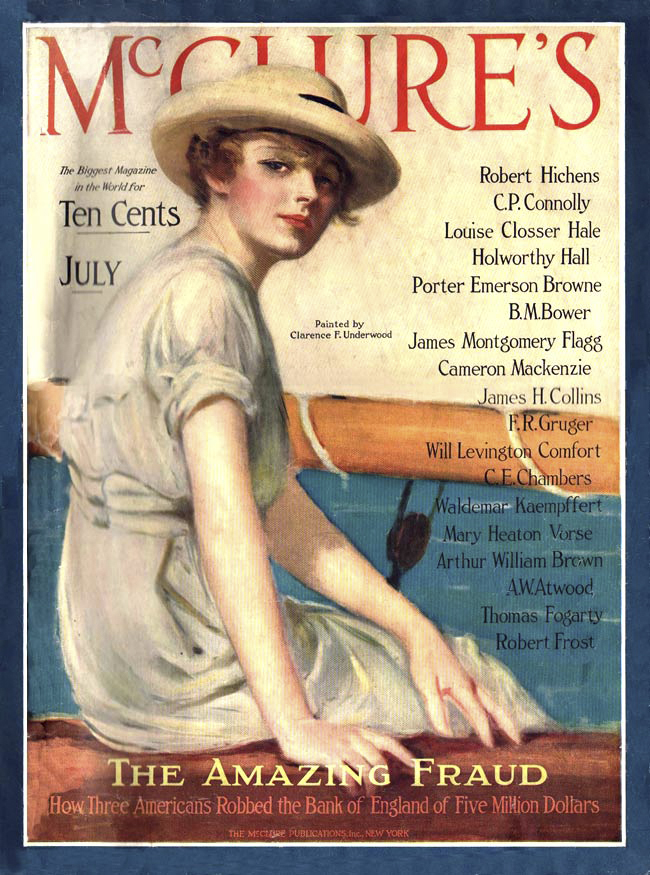 Most magazines are around the standard A4 or US Letter paper size, or something close at least. This is because it fits well with the production restrictions of printing presses and paper sizes (see Paper Sizes, Know Your A, B, C), and also because this is big enough to allow complex layouts and small enough to remain easily portable. So what happens when we go digital? This is the MP3 moment for magazines. We've not had the equivalent of the vinyl to CD lurch, but as digital magazines become mainstream the role of the cover needs to be examined carefully.
Pretty much all of today's print magazine cover designs are created to sell, sell, sell on the newsstand. It is said that a magazine cover has around three seconds to convince someone to buy it; beyond that, the odds are they won't. Publishers work out the sell-through efficiency ratings of different covers, the percentage sold, and use that to try and improve the power of future covers. Different sections of a cover are used for specific different kinds of content (Cosmopolitan virtually always puts "SEX" in the upper-left quadrant), and woe betide those who use too much green! There's a widely-held opinion, possibly superstition but nobody's testing it, that green covers usually spell death to an issue's sales.
There is a wealth of knowledge and experience behind print magazine covers. But how does this translate to the digital market? It looks like the answer to that is 'not terribly well'. One major problem is the size of the covers shown in the virtual newsagent's display. From Amazon to Zinio, you have to browse thumbnail images if you want any kind of overview. The trouble is, thumbnails are small, they hold little detail, and as a result they don't have the same kind of attention-grabbing, sale-making power that they do in print. Especially if they're just scaled-down images of the physical cover. The trick will be to find a way to create thumbnail-destined cover designs, things that are made specifically work at that size. While still selling as effectively as possible, which is the tall part of the order.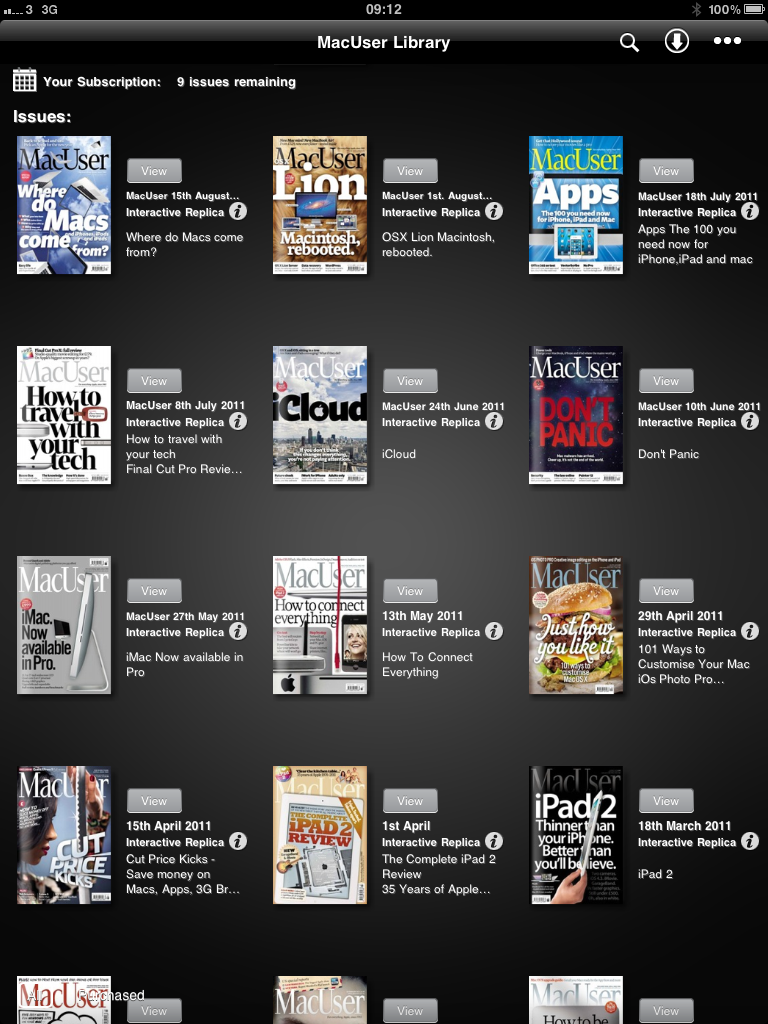 We can't just ignore this. The fact is we all judge things by first appearances. If the object of the cover is to sell, as with magazines, then this first sight is a critical point in time, but the current approach of scaling down A4 print covers isn't working. Wired magazine is experimenting with landscape and portrait versions of their iPad version covers, but you only see those if you've already installed the app – so not exactly virtual newsstand browsing. I don't pretend to know the answer; this is something that's going to take a fair bit of experimenting, and it will also be affected by the devices and screens we use in the next two, five, ten years and onwards. But as designers it is partly up to us to try and find ways forward.
---
---